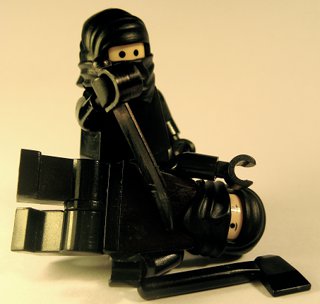 I'm starting this off with a rather selfish request for everyone who's more into this type of movies than me.
Recently i've been looking for great ninja-movies. I am somewhat familiar with all this trashy 80′s style stuff and some parodies, but i'm asking myself if there also are some real treasures out there aside from those cliched Action flicks, because to me, the ninja-related setting sounds just like the kind of stuff that great stories are made of and it seems far too interesting to be wasted only on a number of more or less amusing trash flicks.
So what do you say, ninja-experts? What films (anime is relevant, too…) would you recommend me that are incredibly smart, thrilling and action-packed, or at least one of these things?
So far i've seen the "Shadow Warriors" TV-series with Sonny Chiba (which i really liked as soon as i accepted this old TV-style of filmmaking) and "Owl's Castle", which i thaught was rather boring. I'm looking forward to your thoughts and recommendations

Ich starte mal nicht ganz uneigennützig, mit einem Aufruf an alle, die mehr Ahnung davon haben als ich.
Ich bin schön länger auf der Suche nach genialen Ninja-Filmen. Ich bin durchaus vertraut mit unmengen trashiger Actionkost aus den 80er Jahren und der einen oder anderen Satire, frage mich aber schon länger, ob da nicht noch etwas mehr gehen muss, denn das Setting rund um die Schattenkrieger ist einfach zu interessant, um lediglich für ein paar mehr oder weniger amüsante Trashgranaten herzuhalten.
Also Ninjaexperten aufgepasst: Was für Filme (Anime passt auch) würdet ihr mir so ans Herz legen, die unglaublich schlau, spannend und actiongeladen, oder auch nur eins davon sind?
Bekannt sind mir bisher u.a. die TV Serie Shadow Warriors mit Sonny Chiba (gefiel mir sehr gut, sobald ich mich mit dem alten TV-Style angefreundet hatte) und, als Versuch eines etwas "ernsteren" Films, "Owl's Castle", den ich etwas fade fand. Ich freue mich auf eure Gedanken und Empfehlungen